The following article is created under

ANIMEFREAK01
For the edition of this page, you must have at least one of the following criteria fulfilled.
You must have the permission to edit this page by ANIMEFREAK01.
You must have the permission of an admin to edit this page.
Other than that, if you are the Creator of this page, you are free to edit it. Do remember that this article could be edited any time by an admin for improvements.
If any of the above criterion are not fulfilled, and you continue with your edit, you'll receive a warning from any of the admins. Continuation of your edits will lead you to receive 2 more warnings. If you still continue with your edits after the 3 warnings,

you could be banned from the wiki

depending upon your edit.
This is a song by the unknowns.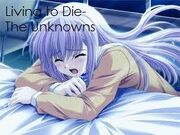 ( Some will be updated later on)
(Chorus)
Soul: It's that sun agian; oh yeah, oh yeah!
I had always thought what to do, but things never ever, remain the same( The Same!)
Ah, and then the fear creeps in (Creeps in!)
Because,
Kellyn: Because
Both: Because we're living to die, die, DIE!
( Silence)
(Suddenly, the beat gets faster, the instruments play louder)
Soul( in a high pitched tone) : Oh yeah! This is our tur-r-r-r-n-n!! I hope you all'll learn, soon( Oh, Yeah!!!)
Kellyn : I know life isn'tover yet, but I bet; you won't let it go, if you know when, when, you're..........
Soul : ( Music gets extremely loud) GONNA DIE!
( Beat gets softer)
Kellyn:Oh no! It's the night, with all its fright! It's come again!
Soul: We are nearing the end, My errors, how to men-n-n-d-d
Anime( In a very loud voice) 'CAUSE WE'RE LIVING TO DIE DIE DIE & DIE!
Kellyn: Livin' to Die
Soul: Livin' to die, oh yeah!
Soul: So, have you..................
Kellyn: Ever thought what life really is....................
Soul:It's the beginning of the death!
Anime: Because!
Kellyn: We are livin' to die!
Soul: And we are livin' to di-i-e-e!
This song is all composed by me, ANIMEFREAK01